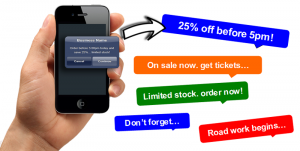 Need a push messaging online platform? We have our own one, which is available for you.
Our push messaging platform is available to our customers, who can get the benefits of it at a really low fare.

It works for all platforms: iPhone, Android, iPad, Windows Phone and Tablet, and is pretty easy to use.

There's no limit in what number of messages sent refers: it's up to you.

Need more info? Get in touch with us and we'll call you back as soon as possible!