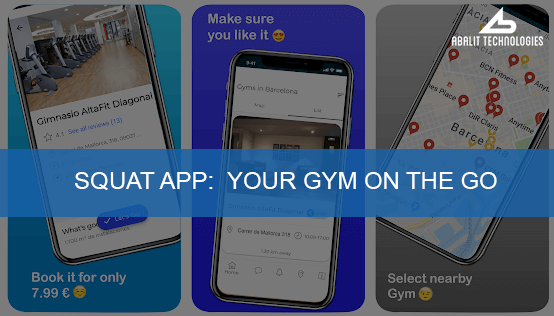 Squat app is the new kid on the fitness block, wanting to make it possible for anyone to work-out anywhere and at anytime.
Mobile app to book daily gym tickets
The start-up just launched in Barcelona, giving tourists and visitors a single day access to gyms, with no commitment or membership. The usual price is planned to be €7.99, which will stay flat throughout the entire platform, meaning that's what you'll pay to get into ANY gym. But for the launching, they have a mega-offer; €2.99 to enter any gym! No, that's not a typo, you heard it right.


The founders behind Squat are two Israeli entrepreneurs, Adi Haft and Reizel Roth. According to Reizel "there are currently a few platforms which offer multiple gym access within the city, which is nice if you like to try different places, but that merely enables local residents to switch from their regular gym membership to a multi gym membership within the city. There's still no definite and easy solution for gym access while you're traveling and are outside of your city. If you're a fitness enthusiast, you probably already have a steady gym membership which you pay for every month, we understand that you don't want to pay on top of that a ridiculous price just for a one time quick gym session when you're traveling".

With Squat app, you will ideally be able to access gyms and fitness centers with one click, wherever you are. "We are launching in Barcelona, but soon enough we'll be in all the major European cities, and that's just the beginning", says co-founder Adi Haft.
Squat also focuses on the social aspect of fitness, encouraging users who are nearby, to interact with each other and go work-out together. The idea is to throw in some extra motivation and accountability when it comes to keeping up your fitness routine while on the go. If you really need to get you butt kicked, you can book a personal trainer, who'll make sure you get your dose of sweat.

"Right now we are in the business of losing money", says Roth, "But we want to show our users the ease and comfort in booking a single gym access with no hassle or catholic-marriage sort of commitment. We also know that people don't appreciate hidden fees and small-letter tricky conditions, which is why we stirred away from those completely, the price you see is what you'll pay, nothing more, nothing less. We believe that by this transparent conduct, on top of the value which we have to offer, we'll be able to acquire the mass user volume, which is necessary for the sustainability of our business model".
With traveling statistics constant rising, especially in the business sector, an app like "Squat" seem necessary since the majority of people don't stay in a 5-star hotel which has a gym on premises. Interrupting your fitness routine every time you go on travel, and returning home with the guilt related to all the delicious things you ate while away, doesn't do good for your overall well-being. Squat is here to change that, and make traveling more healthy and balanced.